Bryce Michael Hall is an American social media personality known for his TikTok and YouTube videos. Bryce is well known on Instagram. He has more than 739 thousand followers on his Instagram account with handle 'brycehall', and over 850 thousand followers on his TikTok account and also has over 139 thousand followers on his twitter account. He also has more than 40 thousand followers on his Vine account.

Who is Bryce Hall?
Bryce Michael Hall was born on August 14, 1999 in Ellicott City, Maryland. He was raised by his mother, Lisa Hall. Bryce Hall online career started in 2014, when he would post pictures of he and his friends on Instagram. After this, he started using the TikTok to share lip-sync videos, which gained popularity.
Hall and YouTuber Austin McBroom had a fist fight but began fighting on Twitter before finally booking a boxing match. On March 18, 2021, the undercard of the match was turned into a new event called YouTubers vs. TikTokers, with Hall representing the TikTok side. At the press conference for the event, a fight between McBroom and Hall broke out on stage. On June 12, 2021, McBroom beat Hall by TKO. In 2020, Hall dated TikToker Addison Rae. They broke up the following year.
see also; Who is Munaf Ali? Meet Nina Ali's husband

What does Bryce Hall do for a living?
Bryce Hall is a content creator, youtube star and TikTok personality. His fame is a result of him being an internet sensation. His fame on social media gained him the opportunity to have a boxing bout with another internet sensation, Austin McBroom.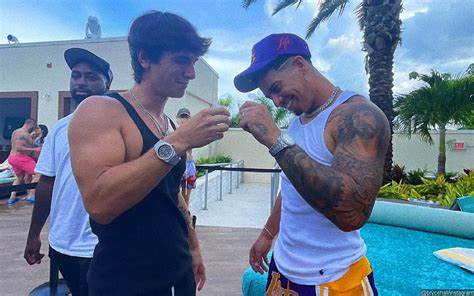 Bryce and Austin McBroom
What is Bryce Hall's Net Worth?
Bryce Hall is an American social media personality and musical artist who has a net worth of over $2 million. His income come as a result of social media appearances and television interviews.
Must read; Landon McBroom's Bio, Age, Height, Parents, Siblings, Girlfriend, Kids, Net Worth