Tobey Maguire is an American actor and film producer who was born in Santa Monica, California. His parents Wendy Maguire and Vincent Maguire were 18 and 20, and not yet married, when he was born. His mother, Wendy did advertising, publicity, and acting in Hollywood for years as she coached and managed Tobey. His father, Vincent Maguire, was a cook and sometimes a construction worker. Tobey did not finish high school but went on to pursue and focus on acting. He did end up getting his GED. He did several commercials and had some roles on various televisionshows before landing a starring role on the Fox comedy Great Scott. That role lasted nine weeks before the show was canceled. He has two beautiful children with his ex-wife, Jennifer Meyer Maguire. Their names are Ruby Sweetheart and Otis Tobias Maguire.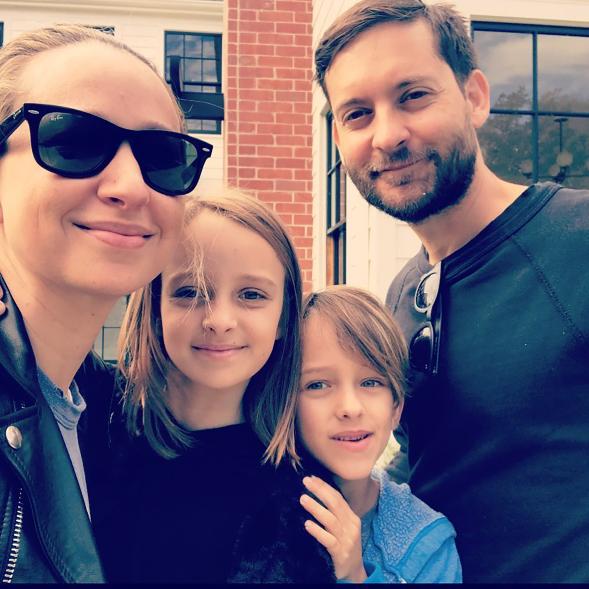 Read Also: Who are the Tren Twins? Meet Michael and Christian Gaiera.

Tobey Maguire children: Meet Ruby Sweetheart and Otis Tobias Maguire
Tobey Maguire and his former wife, Jennifer Meyer who was a jewelry designer had two daughters whiles they were together. Their oldest daughter Ruby Sweetheart Maguire was born November 10, 2006 in Cedars-Sinai Medical Center, Los Angeles, California, United States. She will be 17 years in November, 2023. Ruby is currently schooling but due to the private nature of her parents, the institutions name is unknown. She has no social media platform and also has no Networth but is enjoying from her father's $75million Networth.
Otis Tobias Maguire is the second born and first son of the actor. Otis was born May 8, 2009. He turns 14 years in 2023. Very little information is known about Otis but his popularity is as a result of him being the child of a celebrity. His parents, though divorced, do well to raise him and his sister.
Must read: Who is Tobey Maguire? Bio, Age, Height, Birthday, Family and More