Brooklyn Beckham is the first born child of football superstar David Beckham and singer turned fashion designer Victoria Beckham. He has three other siblings, brothers, Cruz and Romeo. His last sibling is a sister, Harper Seven Beckham. Of all the children, Brooklyn is the favorite star kid of the paparazzi. He is constantly in the public eye for one reason o the other. Be it his career choices, or his relationships or his fashion sense, Brooklyn has grown up in a very well-photographed way. He has a huge social media following on Instagram (14 million followers) and Twitter, where millions of fans follow every update about his personal life.
Read also: Landon McBroom's Bio, Age, Height, Parents, Siblings, Girlfriend, Kids, Net Worth

Meet David and Victoria Beckham
David and Victoria Beckham are the parents of Brooklyn Beckham.
David Beckham was born at Whipps Cross University Hospital in Leytonstone, London, England on 2nd May, 1975. He is the son of Sandra Georgina, a hairdresser, and David Edward Alan "Ted" Beckham. He has an older sister, Lynne Georgina, and a younger sister, Joanne Louise. He attended Chingford County High School in Nevin Drive, Chingford.
David Beckham is the former captain of the England football national team. He played for Manchester United before moving to Spain to play for Real Madrid. After some time, he got transferred to the United States to play for Los Angeles Galaxy. He played for a while and went on to play for AC Milan before retiring at PSG in France. He is also known for his Modeling and fashion sense as he was a model and ambassador for some designers. David was once an ambassador for Pepsi Mineral. David got married to his wife, Victoria on 4th July, 1999 and they have since been together. They have four children, three sons and a daughter.
Victoria Caroline Beckham was born on 17 April 1974 at Harlow, Essex, England. She is an English fashion designer, singer, and television personality. She rose to prominence in the 1990s as a member of the girl group the Spice Girls, in which she was nicknamed Posh Spice. She was born to Jacqueline Doreen, a former insurance clerk and hairdresser, and Anthony William Adams, who worked as an electronics engineer. She is the eldest of three children. Her other siblings are sister Louise, and her brother, Christian Adam's.  In 1991, Victoria entered Laine Theatre Arts in Epsom, Surrey and studied dance and Modeling. Beckham attended St. Mary's High School in Cheshunt.
Victoria Beckham collects handbags, and owns over 100 Birkin bags, made by Hermès, which are widely considered the most valuable and sought-after, including a £100,000 shocking pink one. The full collection is estimated to be worth more than £1.5 million. After the Spice Girls split in 2001, Beckham was signed to Virgin Records, in which she released her self-titled debut solo album, which produced two UK Top 10 singles.
Together, both David and Victoria have a Networth of over $600million presently.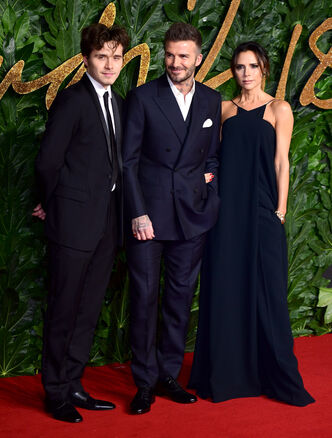 David and Victoria Beckham's children
David and Victoria Beckham have four children: sons Brooklyn Joseph who was born on 4th March 1999 at Portland Hospital, London), Romeo James (born 1 September 2002 at Portland Hospital, London), Cruz David (born 20 February 2005 at Ruber International Hospital, Madrid), and daughter Harper Seven (born 10 July 2011 at Cedars-Sinai Medical Center, Los Angeles). Elton John is godfather to Brooklyn and Romeo Beckham; their godmother is Elizabeth Hurley. Harper and Cruz were baptized Catholic at Holy Trinity, Chipping Norton; among their godparents were Eva Longoria and Marc Anthony.
Beckham's three sons have all played football in the Arsenal Academy. Like their father, Brooklyn and Romeo have both done modelling work and been named among GQ's best dressed British men. Brooklyn previously played football for Arsenal U16, but was released at the end of the 2014–15 season.
There isn't lot of information about the daughter of David and Victoria. There is also limited details of the other sons of the celebrity couple.
Must read: Brooklyn Beckham's Biography: Wiki, Age, Height, Family & Net Worth